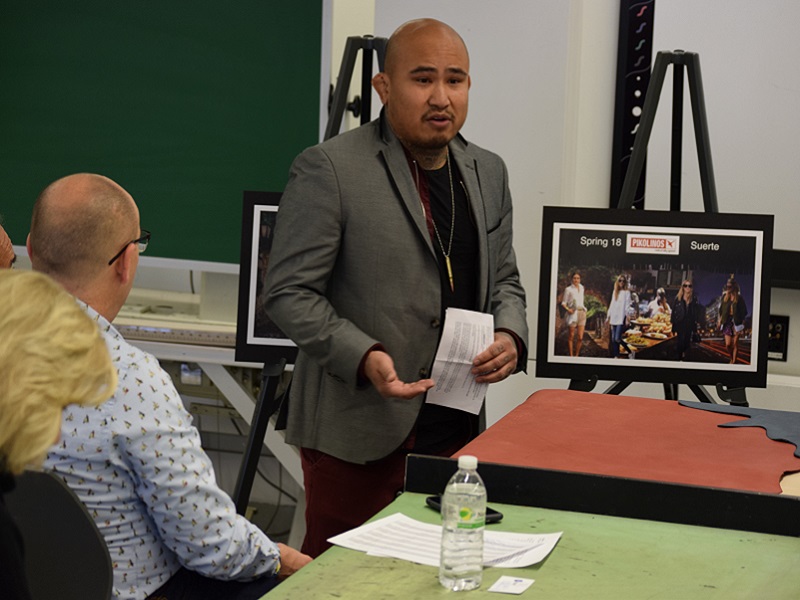 Pikolinos is pleased to announce the winners of their first design competition with the Fashion Institute of Technology (FIT), recognizing the works of senior Accessories Design students who demonstrated a keen eye for footwear design. The winner, Den Ly, will receive a $1,000 cash prize and a two-week internship at the Pikolinos headquarters in Alicante, Spain – plus have his design featured in the SS2018 collection. Angeles Shih was elected runner up receiving a $1,000 cash prize, while third and fourth place winners, Jisuk Song and Marina Lemeshiva, will each receive $500.
"Den's design displayed a modern take, and yet kept the brand's artistic vision making it a perfect addition to our SS2018 collection. We're extremely honored by each student's dedication to the design process and we hope that this competition taught the students an invaluable lesson about the industry," said Pikolinos Group President Juanma Perán. "In fact, we were so impressed by the designs and the presentations that we had to add a fourth place winner! The talent among this group was astounding."
FIT's long-standing student contest and industry-sponsored projects program has proven to be an essential and important component of teaching and learning. This partnership with one of the top ranked fashion schools challenged students and gave them insight into both the design and business aspects of the industry and the work it takes to succeed.
The final projects were presented to a judging panel of one fashion editor (Redbook), one fashion blogger (Pretty Connected), and one fashion brand/marketing expert (The Doneger Group), as well as Juanma Perán and his father and Pikolinos founder, Juan Perán.
For more information about Pikolinos, please visit www.pikolinos.com.
About FIT
The Fashion Institute of Technology, a college of the State University of New York, has been a leader in career education in art, design, business, and technology for more than 70 years. With a curriculum that provides a singular blend of hands-on, practical experience, classroom study, and a firm grounding in the liberal arts, FIT offers a wide range of outstanding programs that are affordable and relevant to today's rapidly changing industries. Internationally renowned, FIT draws on its New York City location to provide a vibrant, creative community in which to learn. The college offers nearly 50 majors and grants AAS, BFA, BS, MA, MFA, and MPS degrees, preparing students for professional success and leadership in the global marketplace. Visit fitnyc.edu.