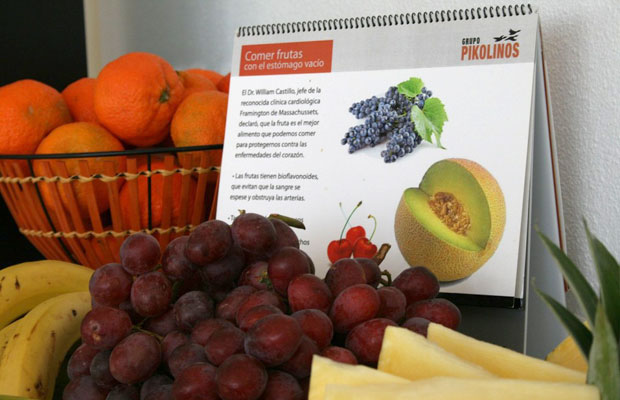 Did you know that fruit is a diuretic; it relieves arthritis, counters stress, helps control cholesterol, and is an effective beauty treatment? When you pass through the dining area of our offices, you will see that there is always bowl filled with fresh fruit.
Fruit contains seven basic active ingredients for a healthy and balanced diet. Therefore, Pikolinos employees are provided with pieces of fruit to brighten up their working day.
A poor diet is one of the main contributors to stress. Therefore, if we increase the consumption of fresh fruit and vegetables and reduce the intake of saturated fats, caffeine and refined sugar, we also reduce the chances of suffering from stress.
Did you also know that an apple has the same effect as a cup of coffee? Apples are stuffed full of nut
rients, vitamins and energy, which make them an ideal daily fuel.
This is what Antonio, who is in charge of making sure that the baskets of fruit in the Pikolinos offices are full, tells us. In the picture gallery below you can see Antonio as well as the fruit corner in the Pikolinos Group offices: delicious and naturally good.